How to Remove AntiVirus Plus 2014 – Uninstall Fake AntiVirus Spyware
Nowadays, there are myriad freeware have been continually released online such as the potentially intrusive AntiVirus Plus 2014 program, whose main work is aimed at fooling online computer users and cheating money from them by disguising as genuine anti-virus program and coaxing into paying. It implies that the AntiVirus Plus 2014 program deceptively declares that user's computer might be at risk and recommends them should run a scan of your system for possible warnings and threats. And later after that the AntiVirus Plus 2014 program warns those target computer users there are quite a few computer threats like malware, worms, Trojan viruses and more have been identified are damaging their computers, thus, paying for the full version of AntiVirus Plus 2014 program is one of the better ways to keep your system in check for its ease of user and powerful cleaning virus abilities.
The true face of AntiVirus Plus 2014 program is a rogue program also referred to the so-called fake anti-spyware. Similar to the Windows Warding Module fake program, all detected computer infections are phonily reported. AntiVirus Plus 2014 program performs its scanning with simple clicks and intuitive layout, which may appeal to users of all skill levels and be widely accepted by the public across the domain of online computer users. Its carefully crafted feature of "Get full time protection now" needs computer users pay a demanding fine reflected on the fake virus page. Once some unwary computer users put their trust into the fake AntiVirus Plus 2014 program and pay, the simulated anti-spyware won't fulfill its functioning of denfence but exploit other viruses into system instead. Therefore, don't believe such AntiVirus Plus 2014 fake program to be true and pay as its recommendation, otherwise, you would be tricked.
The crucial goal of the hijacker spreading AntiVirus Plus 2014 fake anti-spyware across world is to acquire money and confidential data for participating in illegal commercial activities. The fake program works by first analyzing system and then running the scanning itself. By default, the fake virus is able to install itself automatically just while its target computer user is downloading online. In addition, the AntiVirus Plus 2014 fake anti-spyware opts you in for installing desktop and Start menu shortcuts, as well as adding run and open options in your Context menu. Further more, the AntiVirus Plus 2014 fake program still can let the Internet browser hijacked. Once AntiVirus Plus 2014 fake program acquires the right to govern the web browser, the cookies, temporary files, and various other means of tracking you're the victimized Web footprint are contributable for confidential data theft.
Note: It is strongly recommended you remove AntiVirus Plus 2014 fake anti-spyware from the victimized computer ASAP. You can click below help  button to live chat with VilmaTech 24/7 Online Experts to ask for professional help.

AntiVirus Plus 2014 Fake Anti-Spyware: Screenshot and Propagation
Screesnhot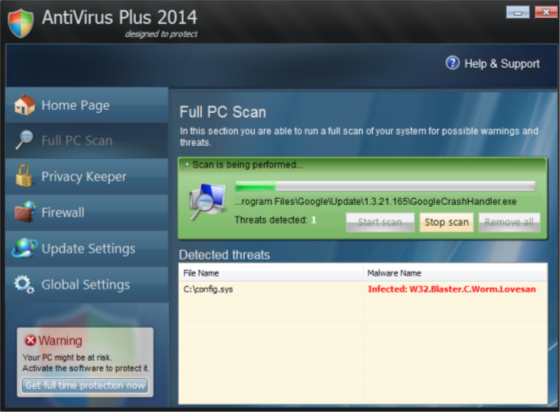 Propagation
AntiVirus Plus 2014 Fake Anti-Spyware– Malicious virus is able to attack one computer sneakily.
When you mistakenly once click on an unsolicited (spam) incoming emails, including clicking links contained within those messages, the AntiVirus Plus 2014 Fake Anti-Spyware can automatically add itself on your computer mysteriously.
The AntiVirus Plus 2014 Fake Anti-Spyware makers often hide a virus in some freeware or more possibly utilizes counterfeit software with copycat names as lure to deceive unwary computer users. Just when you are downloading such unsafe freeware, the virus has installed on your computer.
Besides that, some low-authority freeware, shareware and attractive pop-ups (Ads, coupons) are also the common ways that virus infects your computer.
The most common place where the AntiVirus Plus 2014 Fake Anti-Spyware propagates is the porn site. A plenty of ransomware, malware, Trojan viruses can be sojourners there.
Warm Attention: If your computer is attacked by such fake virus, you can click  Live Chat with VilmaTech 24/7 Online Experts to clean it out instantly.

Remove AntiVirus Plus 2014 with Fake AntiVirus Spyware Un-installation Guides
Uninstall AntiVirus Plus 2014 Fake Virus from Windows XP
1. Stop Windows AntiVirus Plus 2014 fake anti-virus program popups now. You need click the Settings and check Allow unprotected startup, and then click Ok. Then Exit the AntiVirus Plus 2014 Program by right clicking it on the Taskbar and select Exit.
2. Click Start menu and lick on the control panel option. (See the screen grab below for the location)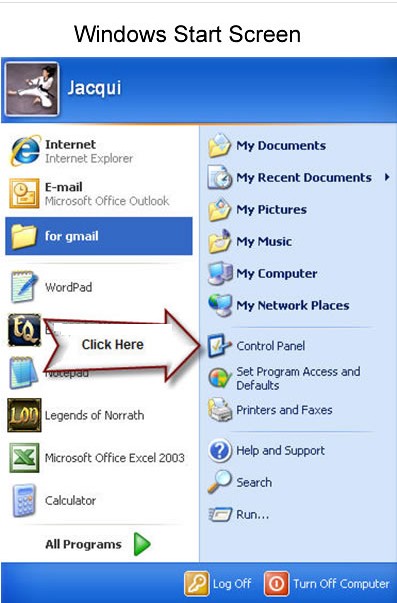 3. Access to the Control Panel window, you will be presented with one of 2 different screens according to the checked view types. With either screen you are going to want to click on Add or Remove Programs. (See images below)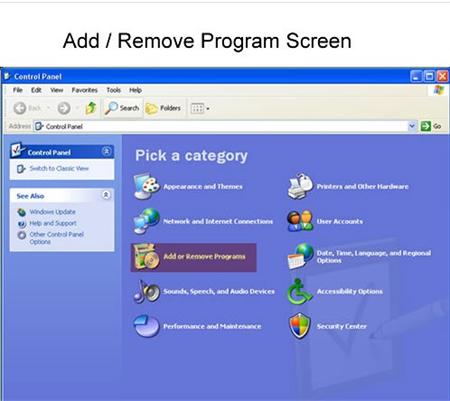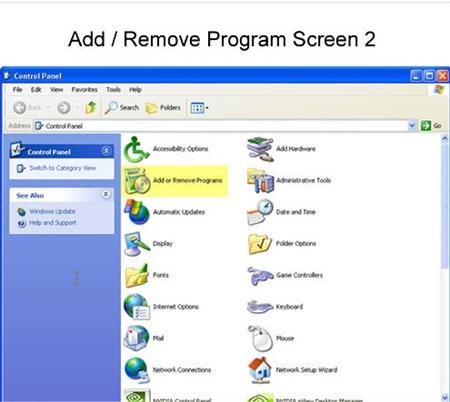 4. Next it may take one minute to fully populate all programs you have installed. (Seen as below)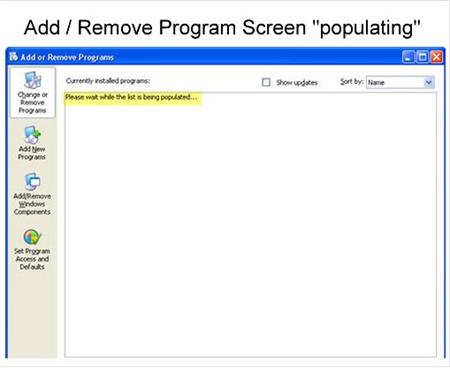 5. Locate at the target program. Next right click the AntiVirus Plus 2014 Program and select Remove on its right side.
6. Most software will ask you if you are sure you want to remove it. Please click the next button as the set-up wizard. Next click the Uninstall button. Click Finish button after the removal complete.
For Windows 8 Windows 7 Windows Vista Users
1. Open the Control Panel from the start button as well. For Windows 8 users, navigate to the Control panel, you can try this way. When you see the desktop, just move the mouse cursor around on the Start screen to reveal a new Apps button.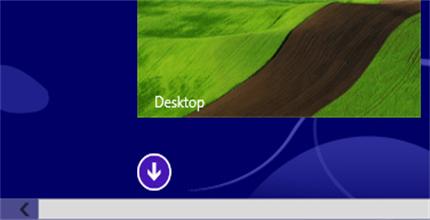 2. Click on the Apps button to display the Apps view, there is a search box on the top right corner.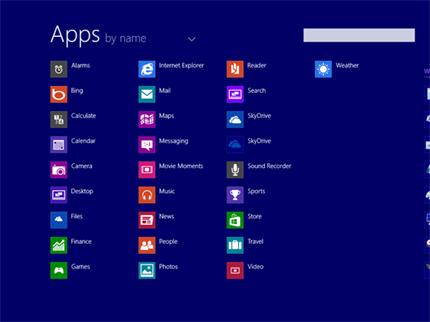 3. Type the control panel in the search box and you then can see the control displays there. Click on to open it.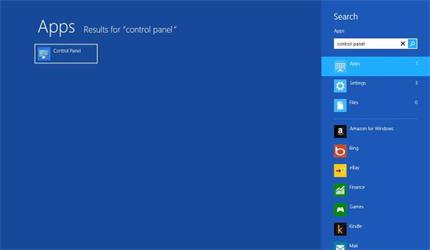 4. Also can click on Search icon –> type in 'add or remove' –> select Add or remove programs.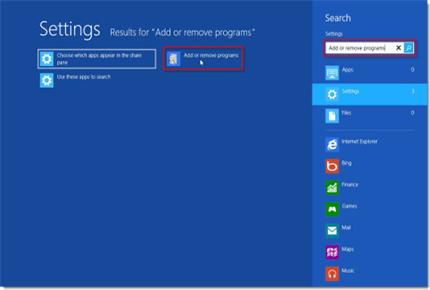 5. Now, navigate to the Uninstall a program to uninstall AntiVirus Plus 2014 fake anti-virus program. The left steps are just familiar with the un-installation process mentioned above.
Delete Leftovers of the Fake Anti-virus Program
1. Access to the local disk to delete the left hidden files. Now show hidden files first. Click on Start button. Click "Control Panel." And click on Appearance and Personalization. Double click on Files and Folder Option. Select View tab. Check "Show hidden files, folders and drives." Uncheck "Hide protected operating system files (Recommended). Then click ok to finish the changes.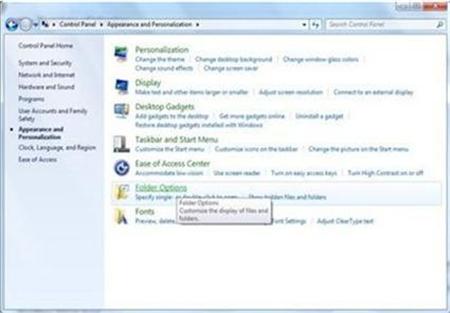 2. Click the Start button and click My Computer. It may bring you to the local disk. You need delete all its left files of AntiVirus Plus 2014 virus.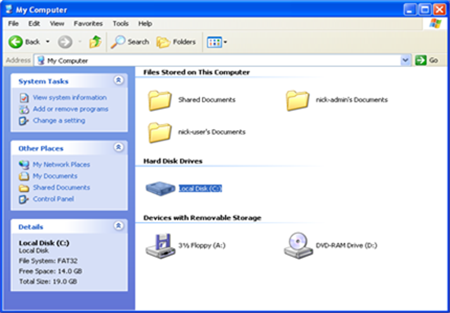 %AppData%\Protector-[rnd].exe
%AppData%\Inspector-[rnd].exe
3. Press Window + R key together, type the "regedit" in the pop-up Run window and hit Enter key. Next you can see the Registry Editor. Click on Edit and select Find. Type the name of the AntiVirus Plus 2014 virus in to search all relevant registries. And then delete them.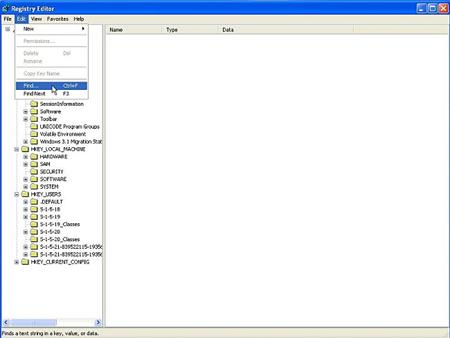 HKEY_CURRENT_USER\SOFTWARE\Microsoft\Windows\CurrentVersion\Run\[random].exe
HKEY_LOCAL_MACHINE\SOFTWARE\ ransom virus name
HKEY_CURRENT_USER \Software\Microsoft\Windows\CurrentVersion\Policies\System 'DisableRegistryTools' = 0
4. Restart the computer to active the AntiVirus Plus 2014 virus removal process.
Conclusion
AntiVirus Plus 2014 Fake Anti-Spyware is known as the rogueware. It is masqueraded as a unique and clean tool take on managing security. And the AntiVirus Plus 2014 Fake virus represents itself as more a security defense tool than just a conventional scanner, thus, which may coax some computer users into paying for its full version. Till now, you should have a clear view of AntiVirus Plus 2014 fake program is promoted by hijacker to trick money from those unwary victimized computer users. In addition, to alter from further damages including computer corruption and confidential data theft you'd better rid such AntiVirus Plus 2014 fake program of the infectious computer quickly. The crucial step is to address all virus files and registry entries. Once leave relating files or registry entries unfixed, it has great possibilities of AntiVirus Plus 2014 fake program relapse. Note: For this point, if you still need help, you can Live chat with VilmaTech 24/7 online experts.