Guide to Remove Police or FBI Virus on Android Phone, Manual Tips
Information about Android Phone Ransomware
More recently, a new Police or FBI virus is delivered from Android Smart Phones, the devices that are often short of appropriate security protection. Symantec once made a statement that one certain ransomware campaign had the capability to implement illicit money extortion from victims up to $400,000 in a month; and a huge amount of confidential data, which is equivalent to $5 million, may be stolen by malware distributors in a year. Police or FBI virus spreading on Android phones can be collectively classified as one new form of ransomware called Troj/Koler that specifically attacks unsubstantial Android operating system. Similar as the traditional FBI or Police virus on Microsoft windows operating system, this type of Android ransomware always restricts the access to GUI (Graphical User Interface) by displaying a bogus warning notification on the monitor.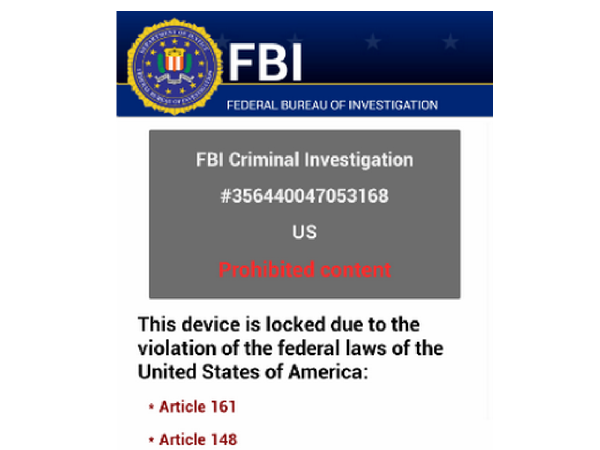 Usually, the Android virus fake message claims that the device is locked due to the violation of the local law enforcement agency such as FBI Federal Bureau of Investigation. The Police or FBI virus from an Android phone generally attempts to make victim believe that he or she has done some illegal behaviors, such as visit some websites containing pornography or download illicitly acquired software. Naturally, the Android ransomware will demand victims to pay a non-existence fine, commonly $200 or more, in order for the restriction to be removed. However, no natter how authentic the alert seems to be, it has no association with any legitimate organization/agency. Once the device has been locked by this Police or FBI virus for Android, victims should figure out the most effective way to eliminate the ransomware instead of paying the concoctive fine.
Tips: If you cannot remove the Android ransomware from your phone, you may ask help from VilmaTech Certified 24/7 online expert here , who will be glad to help you out of trouble.

Take a Look on Android Phone Ransom Virus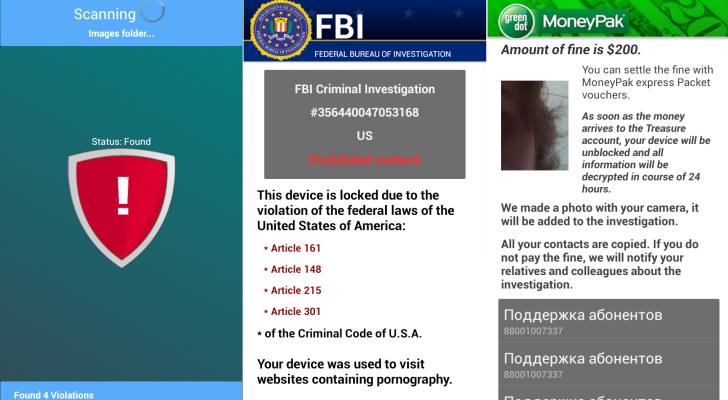 How Do You Get Infected with Android Phone Virus
The Police or FBI virus on Android phone can often permeate onto a victim's device without asking for any approval. The common-used way to propagate the infection is the top URLs relative to recent hottest news or events on search engine, which are operated by cyber crooks who are skilled in making use of SEO poisoning techniques. People looking for those materials may directly click on those infected links with their default Google, Yahoo or Bing search engine on Android Smart Phone. If succeed, the Police or FBI virus for Android may secretly install its components on victim's device without any awareness. Furthermore, this form of ransom virus may trick the users into installing or updating a fake "video player" app for the purpose of running their audio files smoothly. However, without the so-called helpful program, the Police or FBI virus may drop and activate its code on compromised device instead.
Best Way to Remove Police or FBI Virus from Android Phone
No matter how hazardous or sophisticated an Android virus is, it always has an effective way to eradicate it from device. Manual interaction is strongly recommended in this situation. Follow the methods bellow; get rid of Police or FBI virus from Android Smart Phone step by step.
Method 1: Remove Police or FBI Virus from APP
This is the first attempt for those devices which haven't been locked by the virus completely. Usually, this type of ransom virus will install a malicious application in your device that may be called BaDoink, a well-known name for online porn service. Hence, you need to remove the malignant APP from device to rescue your device.
1.    Navigate to the Settings menu.
2.    Find and press on Apps manager.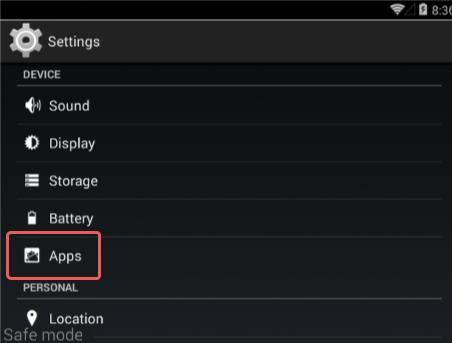 3.    In the list of the applications, find the app called BaDoink.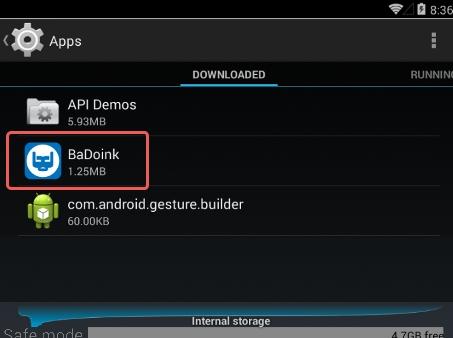 4.    Tap on BaDoink icon, and in its app info menu, press on the Uninstall button.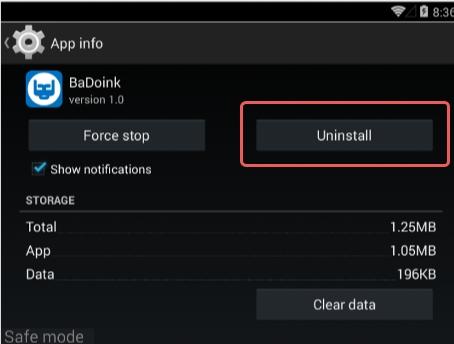 5.    Press Ok to make confirmation.
Method 2: Reboot Android Phone to Safe Mode for Cleanup
Similar as the operating system on PC, Safe Mode is the diagnostic environment that you can use to fix some common problems. Once reboot your device into Safe Mode, additional third party programs as well as virus files should be cleaned up from device. Here is how:
For Android 4.1 and Up
1.    Long press the Power button until the Power Off menu appears.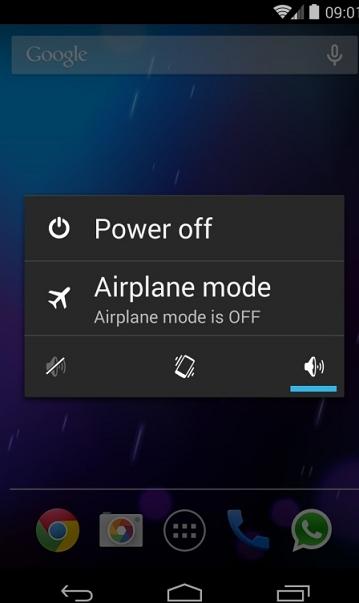 2.    In the screen of Power Off, long Tap and Hold the option.
3.    "Reboot to safe mode" message will pop up, asking you if "Do you want to reboot into safe mode? This will disable all third party applications you have installed. They will be restored when you reboot again."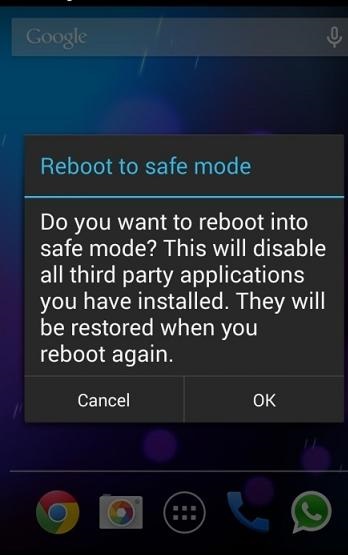 4.    Tap ok to start the reboot.
For Android 4.0 and Lower
1.    Long press the power button on your phone.
2.    In the Power Off menu, tap the "Power Off" option.
3.    Again, long press the power button.
4.    While the device is loading, you are required to long press the Volume Down to boot into Safe Mode.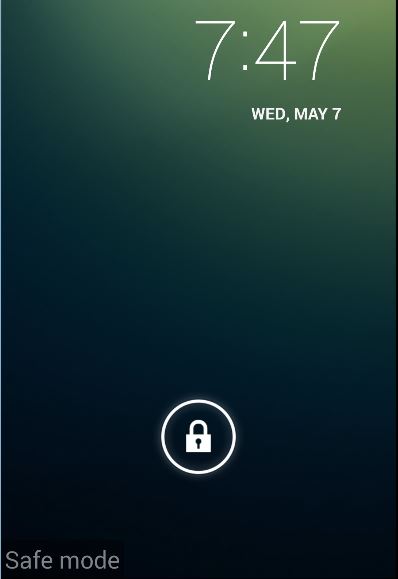 In Conclusion
The Police or FBI virus on Android Smart Phone is a new type of ransomware created by cyber criminals who attempt to benefit from victims. Usually, the infection can often sneak onto a user's Smart Phone without any permission or knowledge. Once being installed and activated, this Android phone virus will lock affected phone while showing a bogus alert on the screen, claiming that the device has been locked due to illegal activities operated by users. To unlock the affected device, the ransom virus will generally require victims to pay a non-existent fine through anonymous approaches, such as MoneyPak, Ukash, Paysafecard and more. Victims should never spend money on this hazardous infection, and figure out the best way to get rid of the virus effectively to avoid further damage or loss. Manual approach is strongly recommended to clean up the Police or FBI virus from your infected Android phone.
Tips: If you meet any problems or troubles during the operation, please feel free to contact VilmaTech Certified 24/7 online expert here to get further solution and help.