10% Off Coursera Google IT Support Professional Certificate Coupon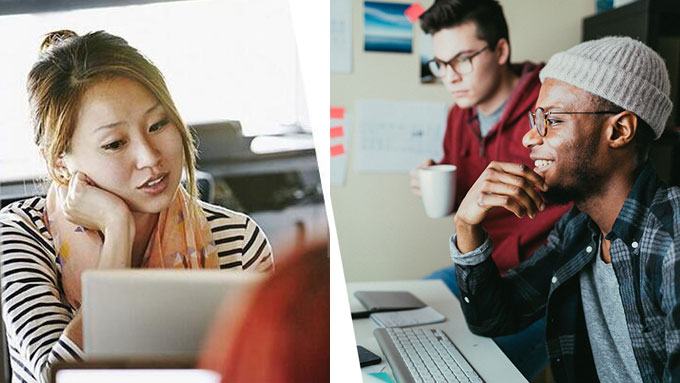 Get 10% Off – When Paying In Advance
Promotions:
Get 10% Off – When Paying The Specialization In Advance. Open the above button to start immediately.
Get 7-day Free Trial – Get Started For Free Here!
Expires Oct 31! Extended 1 Month Free Trial on All Google Specializations: Your first month of learning is free.
Why Google Has Brought Google IT Support Professional Certificate Program?
Today, there are more than 150000 open positions worldwide in the field and development of IT support in the United States. The professionals and experts in this field are those that rescue when anything goes wrong such as computer breakdown, the system goes down, failure of video conferencing, and many more. IT supporting professionals plays a vital role and most of the top-notch companies solely rely on them and technology for running the business well. Working and getting a Google IT Support Professional Certificate can open gateways to career opportunities for those who are interesting in technology. How one can get a professional certificate?
Recently, Google has proclaimed "Google IT Support Professional Certificate" which is its new program held via Coursera. It is for those who wish to get certified for an entry-level job and build a remarkable career in the field of IT. The course conducted by Google doesn't ask for any prior experience in the field and usually, it takes to complete a period of around 8-12 months. Some of the IT professionals are able to enroll and complete the process of certification just for free.
This program gets launched under the scheme "Grown with Google initiative", this is to offer a method for those who really wish to get a foot in a multinational company concerned to IT field. This Google IT Support Professional Certificate course is taking worthwhile as the average salary via this certification in the field can go $52,000USD. It will take little effort for about a year to solidify salary. The program is built on the idea that was built by Google in 2014 when it got partnered up with a non-profitable firm so as to create courses for training and hiring supporting IT support. This program is a huge success to Google as its professionals got inspired and motivated for acquiring new IT support certificates easily.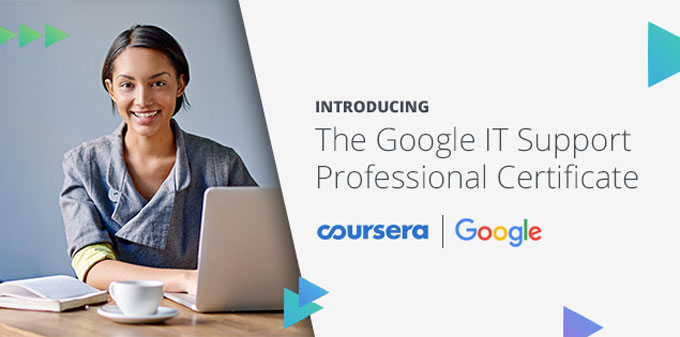 Google calls it an "interactive assessments" because it contains video-based lessons of about 64 hours with a significant emphasis on hands-on work in a lab. It is mentioned earlier that all the courses were created for IT professionals by Google workers because of segments on patron service, networking, security, automation, system administration, and troubleshooting, and many more.
You can opt in a definite amount of share in data with big employers worldwide if you get this certification successfully. The main aspect of this interactive program is to assist learners so that they can find the desired job after they have successfully finished the course period. Coursera offered this Google IT Support Professional Certificate course that usually costs around $49/month. However, this cost gets subsidized in the United States for 10000 individuals by providing financial support. It is not free for everyone who wishes to be a part of the course, so you need to enroll for the financial assistance via Google IT support page Coursera's.
Get 7-day Free Trial Here
About Google IT Support Certificate:
It is basically a five-course certificate which is originally developed by Google that includes innovative and creative curriculum specially designed to prepare the individual for an entry-level job in IT support. What a job in IT means? It means to help small as well as a global company such as the Google. No matter whether you are new or tinkering to IT field, you will get the right job. The certification program has been a major part of Grow with Google project so as to assist the creation of economic opportunities for people living in the United States.
You will be able to share all of your information upon successful completion of the course to top employers such as Cognizant, Infosys, and a bank of America, PNC Bank, TEKsystems, RICOH USA, HULU, GE Digital, UPMC, and Walmart. It also includes companies such as Hayneedle, store No.8, Allswell, Jet, Sam's club, Vudu, shoes.com, ModCloth, bonobos, and others.
With the help of hands-on labs, video lectures, widgets, and quizzes, the courses get introduced to people for troubleshooting problems. Fixation of networking, system administration, operating systems, and security is also involved in it. Thousands of Googlers claims this program contains a unique background that lay a foundation in Information technology for great career building.
A dedicated time period of around 8-10 hours/week is necessary to complete the course and it takes 8 months to get the certificate. You are allowed to skip the part that you think know very well and can speed ahead on other parts of graded assessments.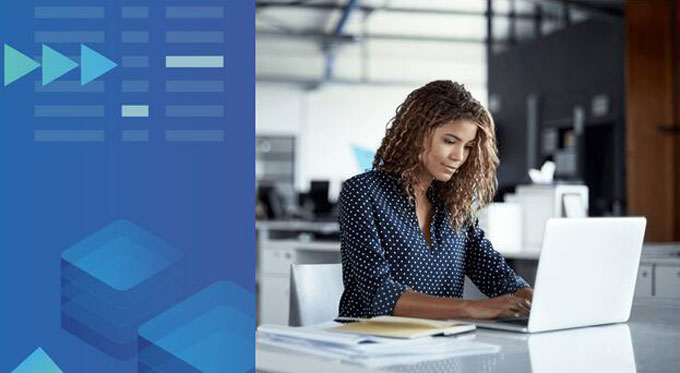 Who All Can Take Part In The Google IT Support Course?
For students and Jobseekers-
Today, students and job seekers can gain an advantage in this evolving economy by learning new skills. You can learn digital basics and problem solving through everyday video lessons and lectures. Video-based tutorials for applied digital skills allow you to equip with practical tech skills such as work with spreadsheets, do online research, and making a digital presentation. Other than that you can improve your marketing skills and business with interactive lessons. The mobile app allows you to avail benefits of interactive lessons on making a great site, business online and creating a business plan.
You can enhance your resume using the IT support certifications. It thus improves proficiency needed in digital workplace tools. Moreover, you can easily find the desired job from Google and explore job opportunities which may be criteria based.
For teachers-
If you are a full-time teacher then with the help of IT certification you will be able to engage your classroom well and assist your students to get acquainted with skills needed for today's job scenario. You will be able to help the kids and learn how to be confident online. The course curriculum enables young students to learn the fundamentals of citizenship safety as well as digital safety. It includes parent materials, free interactive game, and lesson plans.
Teachers can help students in proficiency demonstration with online tools. Surely, young students will be able to learn about digital workplace tools.
For local business-
With the help of Google IT course, you will be able to learn how one can evolve their business and succeed in using resources as well as digital marketing tools. You will be able to get listed via this course on Google and this will build your site. Google business tools will help you to create something useful for the people in minutes and in this way you will be able to get listed freely on Google. Anyone from any part of the world can find you using Maps and searches. You can get a personalized recommendation from experts and professionals to make a site that works extremely fast on mobile devices. This will help you to build your own expertise in the field of online advertising.
An online presence can also be built easily as it offers incredible resources and workshop for individuals to help businesses for attracting more customers. You can develop an online marketing business and grow it online easily.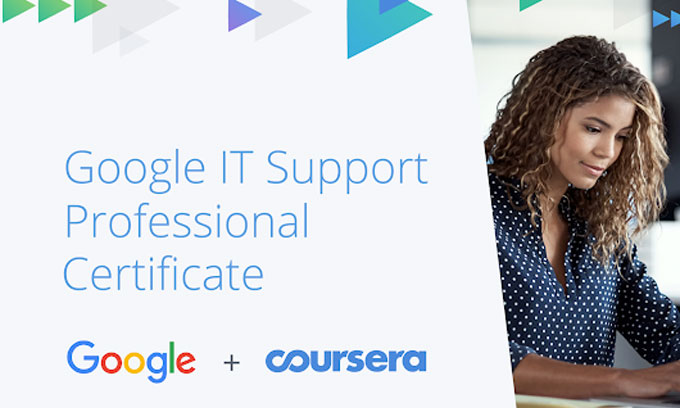 For developers-
If you wish to stay at the peak of the latest technology then you can now sharpen your skills for further mastering using this interactive course. You will be able to learn and understand more about developer training opportunities. The current and aspiring developers get an opportunity that let them complete training programs well. Community support, mentorship, and project reviews are some of the challenges.
For startups-
You can build as well as scale all of your breakthrough ideas and innovations with the help of tools, tips, and community support. It will enable you to enhance your marketing and business skills in a matter of a few months. Generally, it is seen that startup companies find problems and always remain in search for its solutions. If you have just started a startup business so as to help your customers, you can enroll for Google IT certification as it will help you to understand more about your audience. Thus, you will be able to cover up desired audience range in a matter of few months using marketing skills.
About Coursera-
All the courses on the Coursera get executed by top instructors and professionals from educational universities and institutions. The course includes peer-reviewed assignments, recorded video lectures, community discussion forums, and auto-graded assignments. You will be able to get a shareable electronic certification after you have successfully completed the course.
Specializations– If you wish to master in any of the specific career skill then you can join the specialization program. A series of courses and hands-on projects allows you to earn specialization certificates on real business challenges. The specialization certification is all sharable to potential employers and professional network.
Online degrees– if you want a real career transformation, then you will require a recognized online degree. It is believed that the career transformation needs by everyone that's why IT certificate offer affordable and flexible online degree courses in computer science, data science, and business. The course of study takes around 1-3 years. The current price rate can be checked on the official website to earn accredited a master degree.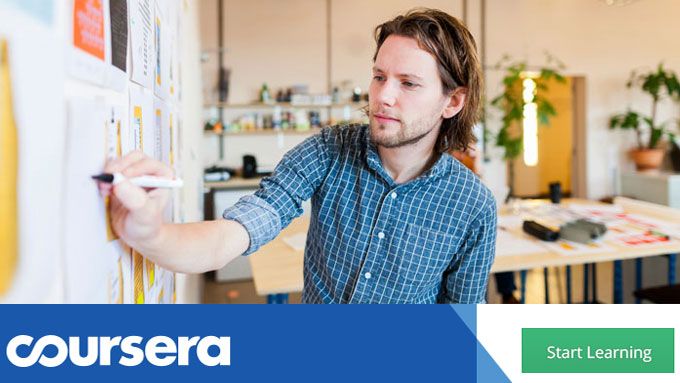 What Else Can Be Done?
Mobile learning– the Coursera offers mobile learning Apps both for android as well as IOS
Technical and academic support– You will be able to get academic as well as technical support from dedicated community course mentors and supporters.
Get specialization and shareable course certifications– You will be able to add your resume to the LinkedIn profile.
Get an inclusive experience– the course is designed for a global audience that includes video subtitles and lectures in around 30 languages.
FAQs:
What is an IT support?
It is a fact that thousands of companies solely depend on everyday technology but fails to avail its benefits. It may be due to phone die, system failure, and computer break. It can be fixed easily by the experts. IT support builds a foundation when comes to problem-solving and troubleshooting when anything goes well. You will get great customer service all the way while pursuing the course.
Is there any refund policy?
Yes, the individual is eligible for the entire range of refund policy. You will get the payment back within 14 days of registration or 14 days after certification launching. If you have earned the course certification, you are not at all eligible for a refund, even if you have completed the course less than 14 days of the period.
Why Google has created such programs?
A lot of companies face networking and other related issues which are greatly understood by Google. Therefore, it creates IT support roles. When it started working so as to build pathways and training with non-profitable organizations, it aims to provide technical support to the individual that face computer breakdown problems. Today Google is able to teach people IT fundamentals in just 8-10 months which was not at all possible few years back.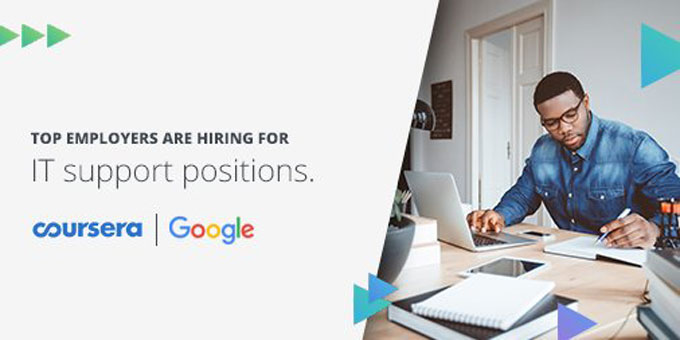 Is it possible to enroll in a sole course?
You need to search desired course title from the catalog in which you wish to enroll. When you successfully subscribe, after analyzing your needs, which is under the certification part, you automatically subscribe for certification. You can directly cancel your subscription if you are interested in some other course so as to stop the recurring charge.
Do you need to take extra courses or courses in the specific arrangement?
It is recommended to take courses that are presented in specific order so as to build right kind of information from lessons.
Do you require any background and knowledge in the field?
No! No matter whether you are an expert or new to the field, you can still expose yourself fully to this kind of right programs. You are allowed to skip any part of the matter on which you have great command.
Want to explore more Google Cloud specializations on Coursera? Get your first month of learning for free here.
Conclusion:
Google offers a dynamic combination of widgets and hands-on labs such as the Google IT Support Professional Certificate, this certificate enables people to apply for a skill that helps them to create a remarkable career. You can skill form video lectures that may include customer service and troubleshooting services, system administration, security, and networking. It is just an example under Grow with Google project and you will be honored to be a small part of it that would hopefully bring career and economic opportunities through partnership with college and communities.


Tips: Wondering where do you get a Coursera coupon, discount, or free course? There are two kinds of promotion here, get 7-day free trial or get 10% discount when you pay the specialization in advance. Open the below button to get the 10% off Coursera Google IT Support Professional Certificate coupon easily.
Get this Deal Now