LastPass Review 2020 – Password Security for You
LastPass is a password manager that saves your passwords and gives you secure access from every computer and mobile device. It comes with great features including password sharing, simplified online shopping, unlimited password storage, and digital record storing. LastPass simplifies your life and keeps your information private, secure, and hidden. Is LastPass secure and safe? How does LastPass work? Is it free for use? Find more information from the LastPass Review 2019 below.
Disclosure: This post contains affiliate links because we are a website that needs compensation to operate like any other websites on the internet. However, we thoroughly test every product we review and the opinions expressed here are our own. We do not accept paid reviews or fake reviews claiming to be something they are not.
What's LastPass?

LastPass is an award-winning password manager that is cross-platform, flexible and easy to use. Today over 13 million users worldwide trust and choose LastPass to store their encrypted passwords online and keep their information private, secure, and hidden. LastPass provides secure password storage to make going online easier and safer. With it, you'll never have to worry about forgetting your password again. This popular password manager can create passwords for you and store them securely, autofilling them when needed. Simply log into an online account for the first time and then LastPass will store your username and password. So, every time you go back, your credentials will be filled in automatically. It takes the hassle out of remembering multiple online passwords.
LastPass supports all browsers, platforms and mobile devices. It works on Windows, Mac and Linux, and has add-ons for Internet Explorer, Firefox, Safari, Google Chrome, Microsoft Edge, and even Opera, which is a big time saver. For tablets and smartphones, there's a dedicated LastPass app. Like many newer password managers, LastPass stores your data on its own servers in the cloud, as well as on your device. This makes syncing among various devices convenient and easy, but it does create a greater risk that the data could be compromised. Fortunately, LastPass implements AES-256 bit encryption with PBKDF2 SHA-256 and salted hashes to ensure complete security in the cloud. Your master password, and the keys used to encrypt and decrypt data, are never sent to LastPass' servers, and are never accessible by LastPass. Besides, your LastPass accounts can be secured with 2-factor authentication either using a push message to an Android/IOS app, or with Yubikey, Sesame, Google Authenticator or other options. LastPass also keeps up to date by providing a variety of additional security options such as OTP authentication, multifactor authentication via your phone, master password re-prompt option, etc. Forgetting password is a thing of past with LastPass. It saves you time by typing in passwords for you across many devices. Besides, LastPass gets rid of the problem of utilizing the same password for multiple websites, plus they often mean the website hacker breaching one of your accounts, or stealing your online identity.
LastPass offers both free version and paid version. The free version includes software tools such as LastPass Authenticator, Duo Security Authentication, Google Authenticator, Transakt Authentication and Grid Multifactor Authentication. However, it limits only one single device. So if you want to log into services via LastPass on both your laptop and your phone, then LastPass Free isn't the way to go. For $24 a year, you can sign up for LastPass Premium, which include priority customer support, 1GB of encrypted file storage, Windows fingerprint reader support, and two-factor authentication either with a Yubikey or a thumb drive with Sesame. For $48/month, LastPass also offers a family version with a family dashboard and unlimited shared folders. Up to six users will get Premium accounts and have access to group passwords to things like Netflix, WiFi, and TV, and more private credentials like bank account info. There are also business plans available. Using LastPass allows you to bypass the unfortunate habit of passwords on sticky notes and it is the easiest way to keep your password safe. Try LastPass & Browse Safer Today!


LastPass Pricing Plans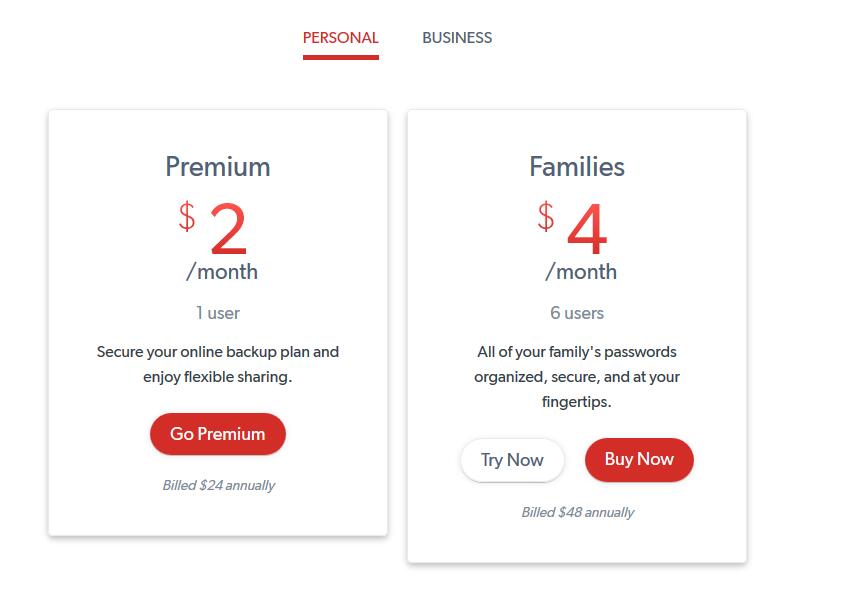 LastPass continues to lead the pack in password management, thanks to its robust free version and relatively inexpensive premium upgrade. All basic features of LastPass are completely free, advanced features such as Emergency Access and One-to-Many sharing are part of LastPass Premium. As the image shows, LastPass Premium costs $24.00/year for a single user, that's ONLY $2.00/month. If your family members also need this password manager service, the family plan which costs $48.00/year and supports up to six users is really a good choice. Premium brings with it 1GB of encrypted file storage, credential storage for desktop applications, priority tech support, advanced two-factor authentication options (including hardware keys), emergency access and one-to-many sharing. The Family plan adds a management dashboard and unlimited shared folders to the rest of the Premium features.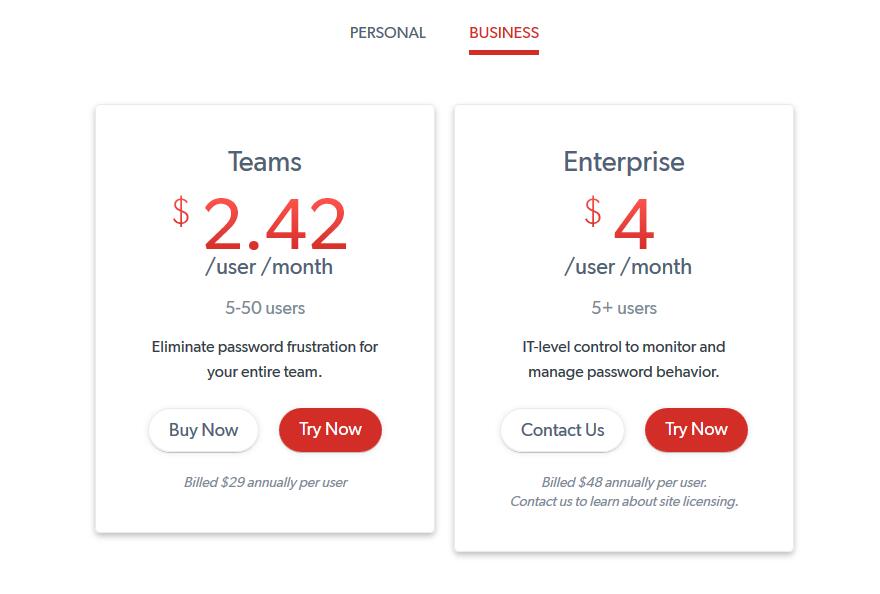 LastPass business solutions help teams and businesses take control of their password practices, enable secure password sharing, as well as eliminate the password obstacles that waste valuable time and resources while endangering the business. Over 25,000 organizations, from leading tech brands like MailChimp to Fortune 500 companies, rely on LastPass to meet their password security needs. LastPass Teams Plan includes everything you love about LastPass, including unlimited shared folders, admin dashboard, easy user management, advanced multi-factor options etc. It costs $29.00 annually per user. The Teams Plan is recommended for teams of 50 or less. If that's not enough, there's an alternative – LastPass Enterprise. The plan fits for business of all size. It offers advanced security features, automated provisioning options, like Active Directory sync, and additional integration for a more customized experience, helping businesses be more secure, maintain compliance, and increase productivity. The price is $48.00 annually per user, which is equal to $4.00/user/month. Every password is an entryway to your business, and LastPass makes it easy to secure them all.
Everyone Needs A Password Manager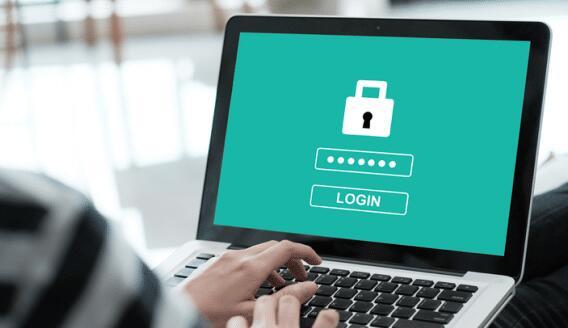 If you haven't gotten around to using a password manager yet, it's time to get started. Password managers are not a magic pill, but for most users they'll offer a much better combination of security and convenience than they have without them. Everyone should be using one to create secure passwords and protect their accounts from attack.
From social media to streaming entertainment, to our online bank accounts and software, we are inundated every day with the need to create and remember new passwords. Remembering multiple passwords, especially if you have carefully picked a password that is complicated is almost impossible. Most people tend to use the same passwords for different accounts, which means that if one password is exposed, criminals can log into all those accounts. What's the solution then? Storing passwords in a document or writing them down? It's not a wise decision because it creates a very high risk of being affected by a breach or simply losing the information. Here you will need a password manager.
The vast majority of us either use weak passwords or reuse passwords on multiple accounts. This makes us more susceptible to crimes such as identity theft. But a password manager assists in generating and retrieving complex passwords, potentially storing such passwords in an encrypted database or calculating them on demand. In a simple word, if you use a password manager, you won't need to remember a unique, long, complex password for every online account. Instead, the password manager will remember each password for you, strengthening your security and minimizing your risk. The only password you'll need to remember is the single "master password" to the password manager itself. Your login data will be locked down and, at the same time, remain right at your fingertips.
Why Choose LastPass?
As a fantastic and 1# password manager, LastPass solves poor password habits so you can secure every account with one, simple login. Using LastPass is very simple. One password is all you need with LastPass – your LastPass master password handles the rest. Once you've set up your master password, LastPass allows you to import all of your saved login credentials including usernames and passwords from Firefox, Chrome, Edge, Opera, and Safari. LastPass will automatically fill your username and password each time you visit a site that requires them taking the guessing game out of surfing the internet. Also you can store passwords and logins, create online shopping profiles, generate strong passwords, track personal information in photo & audio notes with the help of this password manager. Additional LastPass offerings include:
Form Autofill – Automatically fill in online logins, forms, payment information, and more.
Data Breach Monitoring – LastPass monitors third party data breaches in one place, keeping you informed and secure.
Secure Digital Wallet – Secure and simplify online shopping by storing your payment information in a digital wallet.
Online Username Generator Tool – Use the online username generator to instantly create a secure, random username.
Online Password Generator Tool -Use the online password generator to instantly create a secure, random password.
To sum up, once you've got LastPass up and running you'll never have to worry about weak passwords again. It lives in your browser and acts a digital gatekeeper, filling in your login info when you need to get on a certain site. You just have to remember a master password for the manager itself, and everything else is taken care of for you. Get LastPass Now & Say goodbye to lost password anxiety!


Is LastPass Safe?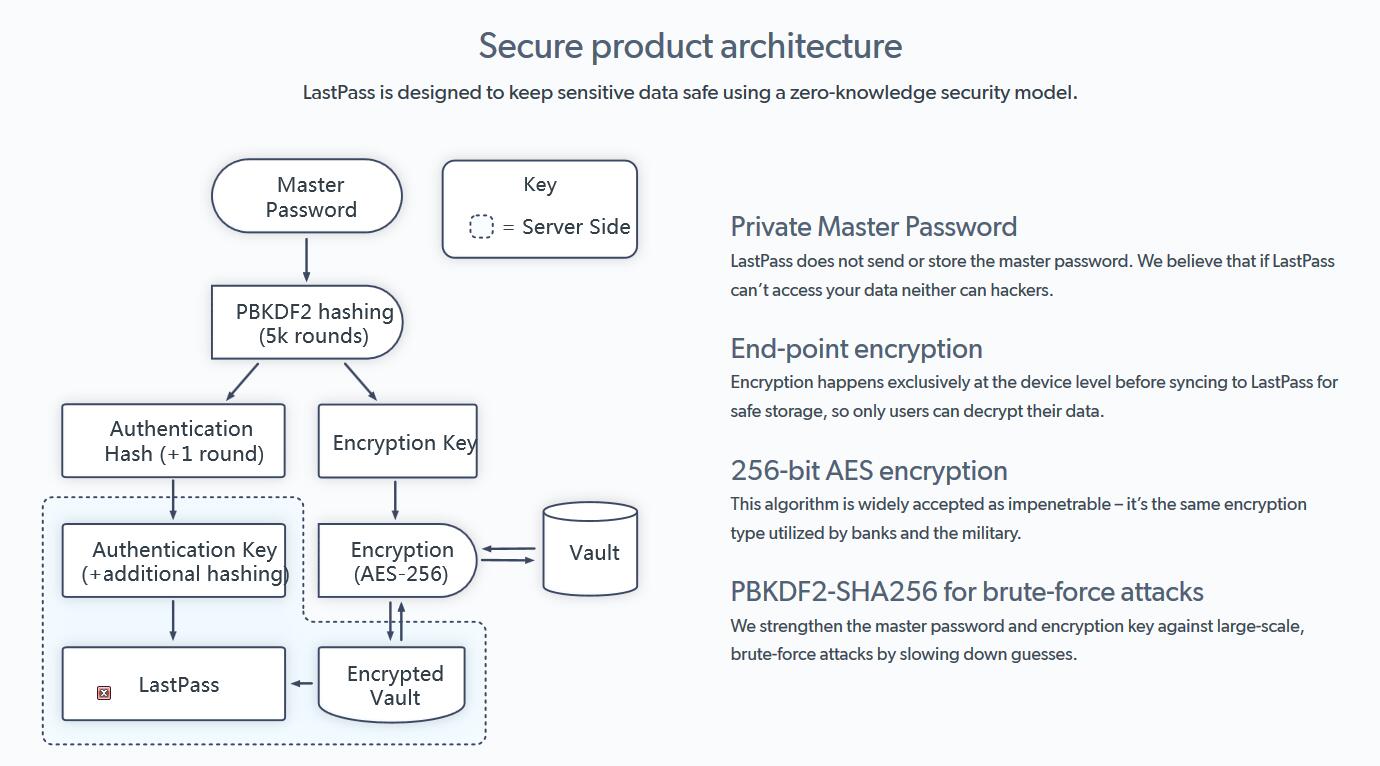 LastPass is a password management tool that takes all the effort out of managing your passwords. It securely stores all of your passwords in one place, and grants access to all of your sites and services with a single master password. But is LastPass safe to use? Does it mean that your password will never be compromised?
Security is the mission at LastPass. It is very safe to use. While using LastPass, you'll have complete control over your data and passwords because the company does not send or store your master password in any cases. LastPass combines a local password manager with cloud-based storage. Your password database is decrypted locally on your device and is stored in the cloud, encrypted with 256-bit AES. Your passwords are only accessible via local decryption or by logging into LastPass's secure web site using your master password to decrypt your password database over the SSL pipe. Two-factor authentication (sometimes referred to as multifactor or 2FA) adds extra security to your LastPass account by requiring a second login step before authorizing access to your vault. Additionally, LastPass also includes password generation tools, automatic form filling, as well as automatic login/password completion. By using LastPass, you'll be more equipped to prevent a hacker from misusing your password and private information.
How it Works?
Instead of writing your passwords on sticky notes or reusing the same password for all of your accounts, LastPass provides a safe place for you to store, manage, and protect your passwords and other private information. LastPass is available for every major browser, including Chrome, Firefox, Safari, and Opera.
Click here to download and install LastPass in your browser for saving & accessing your passwords. The process takes several minutes.

After the installation is completed, you'll see a new icon in your toolbar. Click that icon and select "Create an Account now."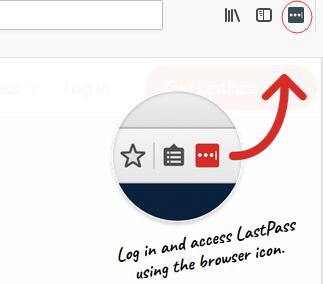 Type in your email address and create a master password. Make this password strong, it's the password you'll always use to access LastPass, and all of the passwords you create and store with it. A memorable passphrase is the easiest way to create a super strong master password. Just look around for inspiration. Don't forget this!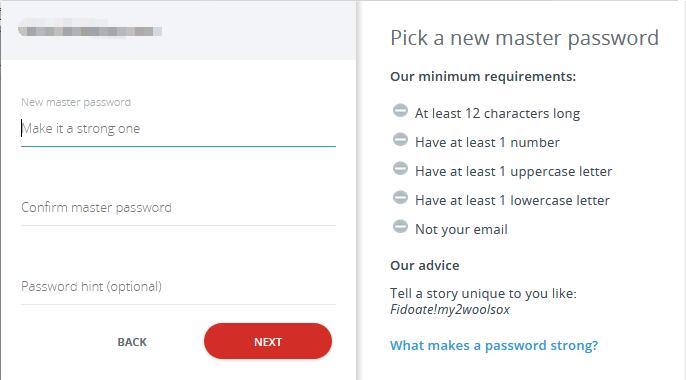 Explore your LastPass vault. You can do a lot from the updated browser toolbar menu, but access to some features requires that you open the online password vault. Start by filling your vault and let LastPass save sites as you login, import sites from your email, import/upload from another password manager, and more.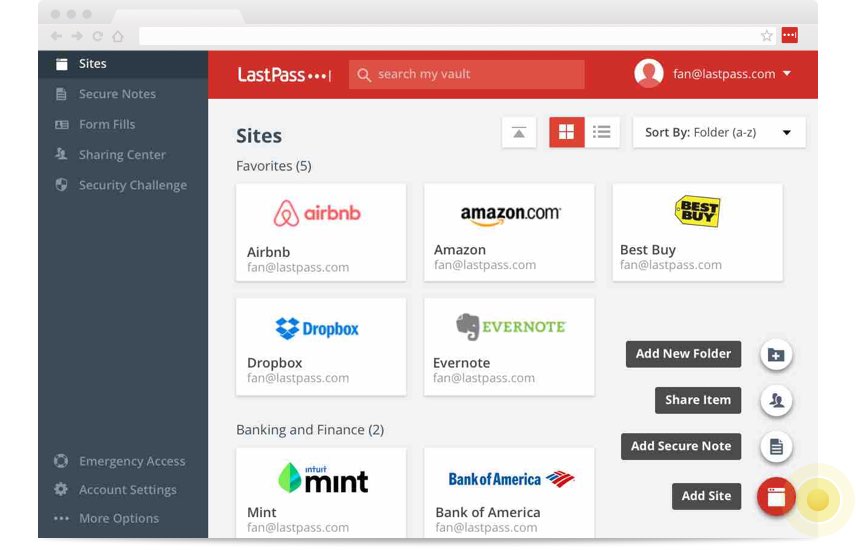 Video on LastPass Review 2019 – Password Security for You
Top 5 Best Password Managers
| Product | Features | Support Platforms | Offers | Price (USD) | Official WebSite |
| --- | --- | --- | --- | --- | --- |
| | Dashlane Review | Windows, Mac, iOS, Android, Linux, Chrome OS, watchOS | Offers Free Version | $3.33/Month | Best Deals |
| | RoboForm Review | iOS, Android, Windows, Mac, Linux, Chromebook | Offers Free Version | $1.99/Month | View Deals |
| | Lastpass Review | Windows, Mac, iOS, Android, Linux, Chrome OS, Windows Phone, watchOS | Offers Free Version | $2.00/Month | View Deals |
| | Sticky Password Review | iOS, Android, Safari (Mac), Chrome and Firefox (Mac and Windows) | Offers Trial Version | $1.25/Month | View Deals |
| | LogMeOnce Review | Windows, Mac, iOS, Android, Linux, Chrome OS, Windows Phone, Kindle, BlackBerry | Offers Free Version | $1.00/Month | View Deals |
Conclusion:
Are you worried about weak passwords and password reuse that could undermine your internet security? Do you always spend most of time on password reset requests? Solve these problems with LastPass! LastPass, as the best password security is definitely an essential part of your online life. It not only stores and manages all your passwords, but also safeguards your data like your name, address, email addresses, phone numbers, your social security number, your birthday, credit card info, online banking details.With LastPass, you don't have to worry about remembering a bunch of different passwords, this password manager autogenerates secure passwords and remembers all of them for you. Also you can share passwords with other users without revealing what those passwords are. Lastpass works on all platforms including Windows, Mac, Android. On mobile, it can even work with apps, which is a big time saver. You can access it from any device that you need to. The interface is very streamlined. It automatically pops up when you need it and then disappears when you don't. LastPass is Cloud-based password managing solution that features many features to simplify your online experience. You can sit in front of a new PC or a spare one in the office, and in a few seconds, have access to all of your bookmarks, passwords, secure notes and so on. It's instant, always available, and very smart with its automatic logins. Try LastPass, the best password manager, password generator, and vault for free today!

Get this Deal Now