IPVanish Free Trial 2021 – Try IPVanish Risk Free for 30 Days
The VPN market has grown exponentially over the past 10 years because people need it for added security when using free Wi-Fi networks, or unblock geographical restrictions when traveling. With so many VPNs on the market, choosing a VPN that meets all your expectation is a difficult process. Fortunately, some top VPNs often offer free trials to let people test their services out to make sure it's going to work how they expect. IPVanish, as the world's only Top Tier VPN service provider allows new customers to test their VPN service risk-free for 30 days. Get IPVanish Free Trial to fully test if it is able to unblock the sites you want or deliver the streaming speeds you need. With 1,200 anonymous VPN servers, 10 simultaneous connections on multiple devices, unlimited bandwidth and more features, IPVanish VPN ensures you complete online freedom and protection.
IPVanish VPN – The World's Best VPN Service
IPVanish is a US-based Virtual Private Network that delivers a wide range of privacy and security benefits that are in demand worldwide. You can use IPVanish to circumvent geographical restrictions, to hide your online activity from hackers, ISPs and government, or even to beat the Netflix VPN ban while you are traveling. IPVanish provides a secure and robust VPN service, packaged in an easy-to-use and attractive client which is available for almost all platforms including Windows, Android, Mac and iOS. With 1200+ anonymous servers in over 60 countries from Europe, North America, Central and South America, Asia, Africa, and Oceania, the performance and speed of IPVanish should remain excellent no matter where you are.
IPVanish is a no-logging VPN that does not collect or log your Internet traffic. Instead, your Internet traffic will be secured and protected using 256-bit AES encryption. IPVanish VPN supports all major VPN protocols including OpenVPN, IPSec/L2TP, PPTP. Moreover, it allows users to access the download-free SOCKS5 web proxy. This protocol can make users enjoy the same benefits of a standard VPN without having to download any software to any of their devices. It is a helpful feature for P2P or Torrent users that makes Torrent connections secure without exposing true public IP. To ensure that your privacy and anonymity is always protected while using the Internet, IPVanish also features an Internet Kill Switch, DNS leak protection, IPV6 Leak Protection, Nat Firewall and more. On top of that, IPVanish allows 10 simultaneous connections on a single account. It is one of the industry leaders in offering the most simultaneous VPN connections. And with room to secure up to 10 devices at the same time, no one will ever have to compromise their connection again.

Currently, new IPVanish members can test their large network of VPN servers and all the advanced security features with no charge in 30 days. There are no limits on the server locations, protocols or client software you can use during the trial period. IPVanish doesn't limit your data usage either, so you can use the service as much as you want and connect to all server locations during the trial period. In addition to the IPVanish 30-Days Free Trial, IPVanish kindly offers special discount for people who need a long-term service. Here, you can take up to 60% off the retail price when you purchase IPVanish 1-Year plan, or get 38% off the 1-Month plan and 44% off the 3-Months plan. Experience true online freedom from anywhere of the world with IPVanish now!
Try IPVanish Risk Free Now
IPVanish Pricing Plans & Special Offer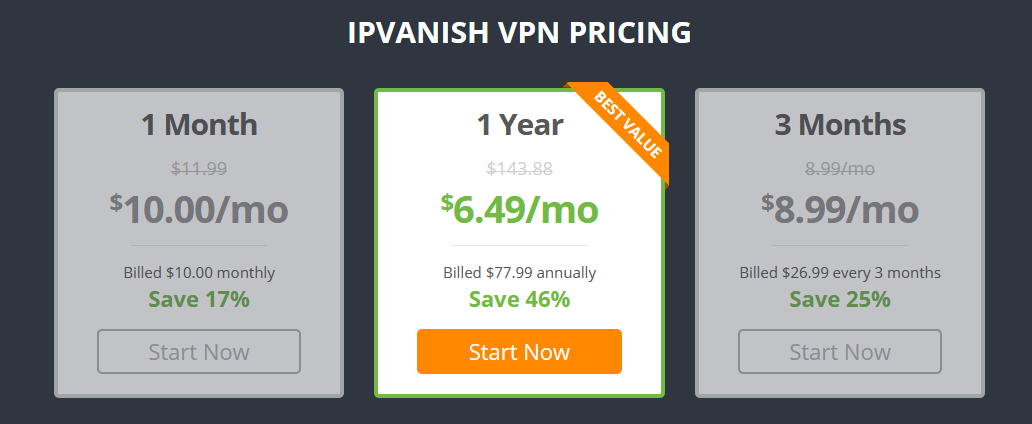 IPVanish offers a fast and secure connection at a reasonable price. Its subscription options include a 1-month plan, 3-month plan and an annual plan. Here are the details:
1 month – $10.00 per month – Save 17%
3 months – $8.99 per month ($26.99) – Save 25%
1 year – $6.49 per month ($77.99) – Save 46%
Here we can see the annual plan provides the best value for bargain seekers. IPVanish VPN sometimes generously offers an additional 25% off of any existing discount for the first billing cycle. This means you will get the chance to enjoy a full year of the IPVanish VPN service for just $58.49, up to 60% off the full retail price of $143.88 a year.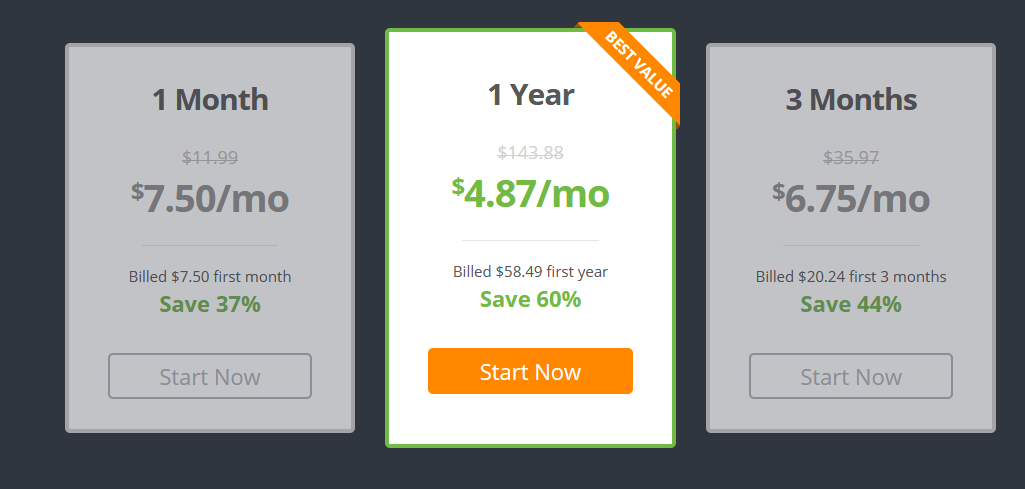 Your subscription will cover user-friendly apps for all of your devices, 40,000+ shared IPs, 1,200+ VPN servers in 60+ countries, unlimited bandwidth, 256-bit AES encryption, zero traffic logs, unlimited P2P traffic, OpenVPN and L2TP/IPsec VPN protocols, unlimited server switching, 10 simultaneous connections on multiple devices, 24/7 customer support and 30 days money-back guarantee. Limited-time offer! Seize the last chance to get IPVanish VPN for only $4.87/month and experience fast speed and private connection now! 
Reasons to Choose IPVanish VPN:
Whether you are an expat who want to keep up with news and entertainment from your own home country, or a citizen who live in a highly censored country trying to bypass government and institutional censorship, even you are just a student who want to overcome campus Web restrictions on social media, online games, and other blocked websites, IPVanish VPN will be the best investment to solve your problems. IPVanish is a worldwide online privacy and freedom advocate. Operating the only true Top Tier virtual private network service in the world, IPVanish provides secure access to 40,000+ anonymous IPs on 1,200+ servers in over 60 countries. It consistently tests as the fastest service globally, while maintaining industry-best security, reliability, and privacy protection standards.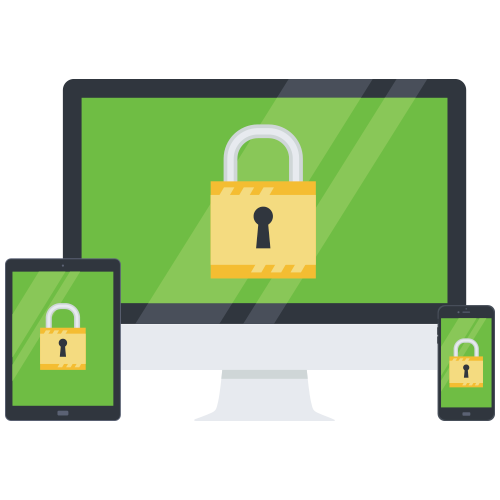 Here are the main reasons that you should choose IPVanish VPN:
Top Tier VPN Service
IPVanish is the only true Top Tier VPN service in the world, which means IPVanish owns and operates all of its own servers, without using the third-party's. So, it delivers the best VPN speeds and the most secure connections for you, wherever you are.
Stop your ISP from Tracking Internet Activity & History
In fact, ISPs such as AT&T, Comcast, and Verizon, among others, are known to keep records of their users' internet history and the worse thing is that Congress has allowed Internet Service Providers (ISPs) to sell and share user's browsing histories. It goes without saying that your online privacy is no longer safe anymore. IPVanish VPN can hide your IP address from your ISP, from hackers, from government agents, or from anyone else. It hides your true location making your browsing anonymous and also encrypts your Internet traffics with military-grade encryption. In this way, no one else can see what you are doing online and know what websites you've opened and what data that you sent and received before.
P2P File Sharing (Torrents)
Torrenting without a VPN is just asking for trouble, but not all the VPNs allow torrenting or P2P. IPVanish allows usage of P2P and BitTorrent connections over their network. If you want fast and secure torrent downloads, IPVanish won't disappoint you. It has a stellar reputation in the torrent community. And the VPN features with a SOCKS proxy which is perfect for bittorrent and allows you to make a two-hop connection (VPN + proxy) for extra privacy. With its protection, you get no worries that your real location or internet provider can be discovered by any monitoring groups.
Use Public Wi-Fi in Confidence
Public Wi-Fi is inherently less secure than the private network you've got at home, because you have to share it with dozens or even hundreds of strangers, and perhaps some of whom might want to peek at your online activities. If you want to stay safe while using a public Wi-Fi, get yourself a VPN. IPVanish allows you to use public Wi-Fi with complete peace of mind knowing your activity is secure and private. It makes use of AES 256-bit encryption to secure your connections. If someone attempts to hack you while you're connected to IPVanish, all they'll see is the encrypted data instead of your private information within it. Prevent getting hacked while on public Wi-Fi with it now!
Bypass Censorship and Geo-Restriction
IPVanish offers users the ability to hide their real IP address from prying eyes, while also allowing them to access websites and other online services that might normally be blocked by their local government or geo-restricted by the service provider. By connecting to IPVanish server, you can bypass censorship from your government and unblock Facebook, Twitter, Google, YouTube and WhatsApp or other streaming services like Netflix, Hulu, Amazon, HBO, BBC wherever you are.
IPVanish Free Trial – Try IPVanish Risk Free for 30 Days
At this time, IPVanish only offers a free trial for those who sign up using iOS (iPhone/iPod/iPad) app. For other people, IPVanish VPN offers a 30 days money-back guarantee. This is equal to a 30-days free trial that allows you to test out the service risk free on all your different devices. So, during the free trial period, you can freely test all the features and functions of IPVanish VPN. You can experience IPVanish strong anonymous torrenting, 256-bit AES encryption and powerful VPN protocols including OpenVPN and L2TP/IPsec VPN protocols. The VPN doesn't limit its server locations and protocols, nor your data usage. If you find IPVanish works for your situation and you are satisfied with it, you can consider signing up for a long-term subscription. At present, IPVanish offers 3 pricing tiers: 1 Month, 3 Months and 1 Year. If you are looking for the best deal possible, you can opt for IPVanish's yearly pricing plan which costs only $77.99/year, as low as $6.49 per month.
If in unlikely chance you are not satisfied with IPVanish, you can choose to cancel before the end of the 30th day of your subscription. When you cancel from your Control Panel on the website, the refund is automatically processed. All eligible refunds should be processed within 10 business days. Please wait at least 10 days before contacting support if you don't receive the refund. And please note refund requests made later than the 30-day purchase date will not be honored. Customers who sign up using a non-refundable payment method will not qualify for a refund. What are you waiting for? Try IPVanish VPN risk-free now!


Why Choose IPVanish Free Trial Rather Than A Free VPN?
VPNs are popular among people who want to access content and websites that are blocked in certain locations, or those who value keeping their personal data safe from malicious cyber hackers. Many people who are new to VPN services start out by looking for a free VPN in order to save money, rather than searching for the best VPN that will keep their data safe. Indeed, when it comes to money, free is always going to sound more appealing. But, nothing is without its cost, and free VPNs are no different. Do you know the hidden danger of using a free VPN? First, free VPNs may contain malware that hits you with targeted ads and spam emails, and probably collect your data and then sell it to the highest bidder without your knowledge and consent. Secondly, free VPN always limits the data you're allowed to use, and it lacks many advanced features, and the worse is the level of encryption supported is not secure enough. So, there is no such thing as free and the costs of using a free VPN certainly outweigh what you would be getting in return for a paid one.
The VPN market is so crowded, so reputation means absolutely everything. Since not every VPN operates at the same speed, and offers the same performance and security features, so it is useful to find one with a free trial. IPVanish VPN has been in service for over 15 years now. The VPN creates a 'tunnel' which shields your IP address and personal details and protects your data from hackers by using end to end encryption. It allows access to 1200+ servers in over 60 countries worldwide, and gives unlimited data transfer for you. On top of that, it supports for every major device and allows 10 simultaneous connections which secures all your personal or family's devices with only one single account.
IPVanish offers 30-day money back guarantee on every plan. That means you can get a 30 days risk free trial. During the trial period you'll have access to the full set of security tools, including all IPVanish's secure servers, and its lightning fast VPN speed as well as its DNS leak protection, kill switch, and zero logs policy. If you are not 100% satisfied for any reason, get a full refund within 30 days of your purchase. Completely risk free!

Video on How to Get IPVanish 7 Days Risk Free Trial
Top 10 Best VPN Services In The World
| VPN Provider | Servers | Country | # of Connections | Price(USD) | Website |
| --- | --- | --- | --- | --- | --- |
| | 5400+ servers in 60+ countries. | Panama | 6 Connections | $2.99/Month (Save 75%) | View Deals |
| | 3000+ VPN servers in 94 countries. | British Virgin Islands | 3 Connections | $6.67/Month (Save 49%) | View Deals |
| | 1,200+ servers in 60+ countries. | USA | 10 Connections | $6.49/Month (Save 46%) | View Deals |
| | 200+ servers in 70 countries. | Bulgaria | 6 Connections | $4.18/Month (Save 50%) | View Deals |
| | 3034+ Servers in 28 Countries. | USA | 5 Connections | $2.91/Month (Save 58%) | View Deals |
| | 97+ servers in 21+ countries. | Romania | 6 Connections | $4.80/Month (Save 46%) | View Deals |
| | Global 300+ Servers. | Seychelles | 3 Connections | $3.33/Month (Save 34%) | View Deals |
| | Servers in 55+ countries & 100 cities | Canada | Unlimited | $4.08/Month (Save 55%) | View Deals |
| | Global servers in 30+ locations. | Germany | 1 Connection | $2.91/Month (Save 68%) | View Deals |
| | 500+ Servers in 50 countries. | British Virgin Islands | Unlimited | $1.99/Month (Save 83%) | View Deals |
While many free VPNs have now been discovered to sell their users data to third parties along with not encrypting user web activity, IPVanish 30 days risk-free trial lets you experience all its features on all of your devices. Guaranteeing internet privacy, security, and uninterrupted access to geo-restricted content requires state-of-the-art technology. This is what IPVanish VPN promises its customers. During the free trial period, you can count on its advanced encryption, unlimited bandwidth, 24/7 customer support and more. Therefore, if you haven't implemented a VPN on your home network yet, you really should give IPVanish a shot now. 30 Days Money Back Guarantee. No Question Asked.
Get this Deal Now