ExpressVPN Review 2018 & 50% OFF Promo Code
Published on January 25, 2018
What's ExpressVPN
VPN is an awesome tool which allows you to create a secure connection to another network over the Internet. VPNs are mostly used to access region-restricted websites like Netflix, Youtube, Facebook, Twitter, Instagram, BBC iPlayer and more,  shield your browsing activity from prying eyes on public Wi-Fi, and more. ExpressVPN is world leading VPN service provider that offers high quality, affordable and easy-to-use VPN apps working for Windows, Mac, iOS, Android and Routers and Linux. Huge network of more than 1700 global servers optimized for fast connections enables you to experience super fast speed in streaming live contents without throttling. ExpressVPN take customer's privacy security serious by using military encryption technology 256-bit AES, DNS/IPv6 leak protection, kill switch, and split tunneling to protect customer from hacking. You can connect from anywhere in the world. ExpressVPN is usually a top recommendation as the best VPN service for Netflix, BBC iPlayer streaming and it also works with Kodi well. ExpressVPN is a great one-size-fits-all VPN for those who are willing to pay a bit more for great design, solid security, strong performance and fantastic customer service. Every user has no risk to use its awesome service because of no-quibble 30-day money-back guarantee.
Why ExpressVPN is Your Best Choice
Super-fast speed connection and streaming live contents
1700+ global servers from 148+ citied in 94 countries
Use 3 devices with 1 subscription simultaneously
Private smart Zero-knowledge DNS
Super secure – 256-bit encryption
Strict no-logging policy
Unlimited bandwidth, Unlimited server switches
Unlimited downloading, No throttling
24/7 customer support live chat and email
No-hassle 30-day money-back guarantee
Apps working with Windows, Mac, Adnroid, iOS, Linux, Router

Special discount saving almost 50% with 3 months FREE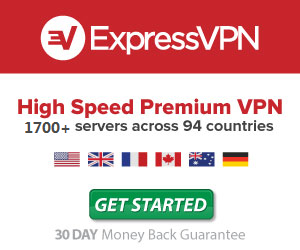 Have not yet Get an ExpressVPN Account? Try it right now to test full-featured ExpressVPN! It's offering special discount saving 50% with extra 3 months FREE!
Plans and Pricing
ExpressVPN offers overall performance, great client-service, high-quality, strong security protection and easy-to-use design, but it offers reasonable price for all plan. The basic monthly price costs $12.95/month, while a yearly subscription cuts it down to $6.67 per month and gives user 3 extra free months if you bill $99.95 first 15 months, which will almost save 50% of your buget. ExpressVPN accepts payment via credit card, PayPal, Bitcoin, and several other safe third-party payment gateways. If you recommend your friends to sign up and use ExpressVPN service, you will be given a unique share link to get another 30 day free.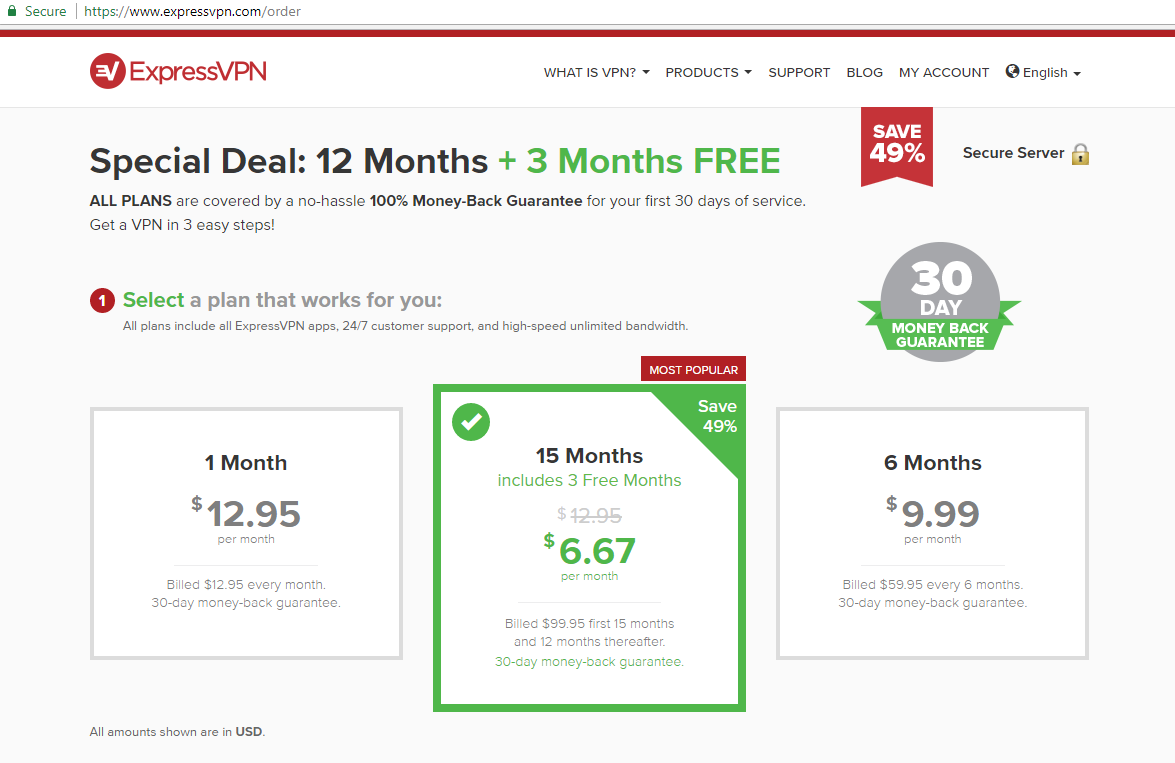 Get 3 months extra free here with the ExpressVPN's annual plan, which equates to a 50% saving. Click the button below to get ExpressVPN 50% off!

Top 5 Best VPN Services 2018
| VPN Provider | Server | Country | # of Connections | Price(USD) | Website |
| --- | --- | --- | --- | --- | --- |
| | 1500+ VPN servers in 94 countries. | British Virgin Islands | 3 Connections | $6.67/Month (Save 49%) | Get Deal |
| | 1,000+ VPN servers in 60+ countries. | USA | 5 Connections | $6.49/Month (Save 46%) | Get Deal |
| | 2643 servers in 56 different countries. | Panama | 6 Connections | $3.29/Month (Save 72%) | Get Deal |
| | 3000+ Servers in 55+ Countries. | USA | 5 Connections | $5.95/Month (Save 50%) | Get Deal |
| | Over 200 servers in 69 countries. | Bulgaria | 6 Connections | $4.92/Month (Save 50%) | Get Deal |
Five Awesome Ways to Use ExpressVPN
ExpressVPN provides Ultra fast VPN servers across 94 countries. It unblocks the sites and apps you love instantly. ExpressVPN's optimized network provides blazing speeds and unlimited bandwidth while keeping you anonymous. Unlike at home, where your IP address may uniquely identify you or your family, you share an IP address with many others on ExpressVPN. This protects your identity. And because your VPN utilizes a shared IP configuration, your network will remain completely anonymous. ExpressVPN has a strong performance to disguise your whereabouts, hide your real IP address and surf anonymously. When you connect to any ExpressVPN server in 94 countries around the world, your IP address and location will not be recognized by others and the third party.
Usually if you don't use a VPN, your internet traffic will just directly pass through the servers of your Internet Service Provider as you contract with them and use their services. In this case, your internet service provider can see what you browse and watch on the internet. They can easily collect your personal information and spy on your sensitive privacy and log your browsing history. If your local government put press on their business and ask them to collect submit the customer's metadata and information, your personal information and any online activities will be viewed by the government. Besides, the snooper or hacker also has the ability to invade your device and monitor what you do online and steal your personal information and illegally use your privacy for different purposes. Your privacy will not be protected if you don't use a VPN to encrypt your internet traffic. ExpressVPN scrambles your traffic in an encrypted tunnel so no your ISP can read it. Protect yourself from hacking and surveillance with 256-bit AES encryption, DNS/IPv6 leak protection, kill switch, and split tunneling.

What's more, you can rest assured that your privacy and personal information will not be taken by ExpressVPN service. ExpressVPN takes customers' privacy seriously and conducts non-logging policy. ExpressVPN's core mission is to enable customers to use the internet privately and securely. It not only promise protecting your privacy but also gets transparent about the information they do and don't collect. ExpressVPN never keep log of your online browsing activity and let customers stay private, stay secure and browse anonymously. Your sensitive information including IP address (source or VPN), browsing history, traffic destination or metadata and DNS queries won't be collected and logged by ExpressVPN.
ExpressVPN is really a reliable and trustful VPN provider, it takes customer's privacy seriously and runs its own DNS which is Zero-knowledge. That means your personal identity information will not leak out. Usually the third part DNS servers log personally identifiable data you're your traffic, like when and where you tried to access what sites. Anyone with access to that server could check DNS logs that link back to you. However, ExpressVPN is a VPN service with its own private DNS. Unlike other VPN services, whenever you're connected through ExpressVPN, your DNS activity is protected by the same encryption and tunnelling protocol that covers the rest of your Internet traffic, because ExpressVPN runs its own DNS on every VPN server. ExpressVPN's built-in DNS is zero-knowledge, meaning your personally identifiable data is never stored on any server.

ExpressVPN uses AES (Advanced Encryption Standard) with 256-bit keys — also known as AES-256, which is a military level encryption standard also adopted by U.S. government to protect classified information and other confidential files. It uses 256-bit AES encryption to encrypt your traffic between secure VPN servers and your computer, so that it can't be read by third parties like your Internet Service Provider, government, hacker or your local Wi-Fi operator. ExpressVPN offers a variety of VPN protocols including OpenVPN with TCP, OpenVPN with UDP, SSTP, L2TP/IPsec to operate strong encryption between your computer and the VPN server location you connect to. When you use the ExpressVPN software, you can easily switch between protocols, or you can just let it automatically connect to the default protocol or let the app automatically select the settings most optimal for your speed and security.
ExpressVPN adopts AES-256-CBC to encrypt the control-channel and data channel, which double protect again your information being visible to the parties that your data travels through. To encrypt the control channel ExpressVPN uses AES-256-CBC. AES is one of the most widely used encryption standards, 256 refers to its size, 256-bit, the largest available and CBC stands for Cipher Block Chaining, which makes each message passed dependent on the previous one. This way even a brief interruption in the channel can be quickly detected. In other words,The ExpressVPN server and your VPN app use clever mathematics to negotiate and verify a secret key that is then used to encrypt the data for the entire session.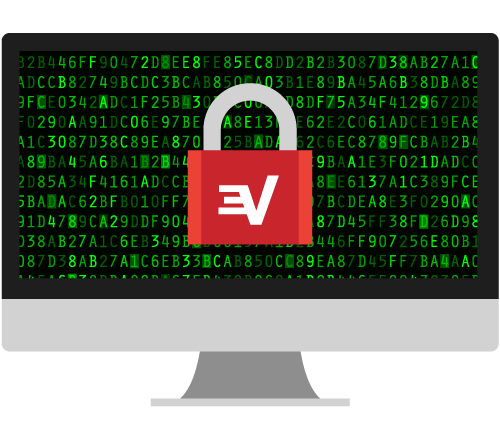 The websites or services you want to use may be inaccessible from your location due to geo-restriction. As Wikipedia explanation, Internet censorship is the suppression of speech, public communication or other information online that may be considered objectionable, harmful, sensitive, politically incorrect or inconvenient as determined by governments, media outlets, authorities or other groups or institutions. For example, in China, the government implements strict net censorship called Great Firewall to control its domestic network security. Many foreign websites like Facebook, Google, Gmail, Twitter, Instagram, Netflix, Hulu etc and other resources are all totally blocked. In China, you can't access these oversea online resources and information.
But if ExpressVPN is used on your device, it enables you to access any websites freely anytime from anywhere. ExpressVPN's DNS requests are encrypted and signed, making them safe from censorship, DNS filtering, phishing, and other manipulation. You'll even get quicker response times because your DNS requests never leave the VPN tunnel. Compared to ExpressVPN, other VPN providers use third party DNS, but third-party DNS is often unprotected, intercepting your DNS requests via man-in-the-middle attacks is one of the easiest ways for governments, ISPs, and corporate entities to deny access to certain content. And ExpressVPN provides 1700+ global servers located in 148+ cities in 94 countries, offers super-fast speed to connection and switch between different servers without any limits. Wherever you're travelling or just walking around the street at your homeland, as long as you put on your ExpressVPN installed in your device, you can surf on the internet freely without throttling.

No-quibbles 30-day money-back guarantee and Great 24/7 customer service
Although ExpressVPN doesn't offer free trial, it does provide a 30-day money-back policy, which also is an excellent method to experience full-featured and full-performance of ExpressVPN. Every subscription is backed by a 30-day money-back guarantee if you are not happy with the service or you think ExpressVPN is not your fit. In other word, you can get a full refund within 30 days, no questions asked.
For support service, real humans are available 24/7 via email and live chat to help you with setup and troubleshooting. If you have any problem with your ExpressVPN service or its app, you can contact their support center anytime and anywhere by email or live chat with the agent or talk with the real person.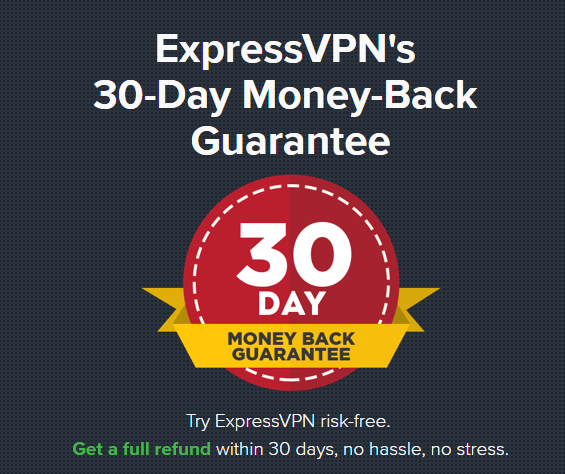 What Devices ExpressVPN Supports
ExpressVPN offers Apps for Mac, Windows, Android, iOS (iPhone, iPad, & iPod Touch), Linux, routers, Chromebook, Kindle Fire, PlayStation, Apple TV, Fire TV, Smart TV, Android TV box and more. Its browser extension is also compatible well with Google Chrome, Firefox and Safari. ExpressVPN splits tunneling feature for Windows, Mac OS and routers.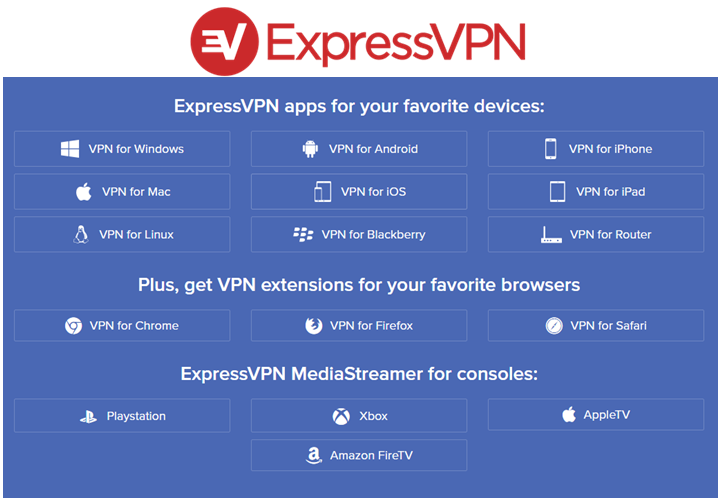 How to set up ExpressVPN for Windows, Mac, Android and iOS
Sign up for an ExpressVPN subscription on the

order page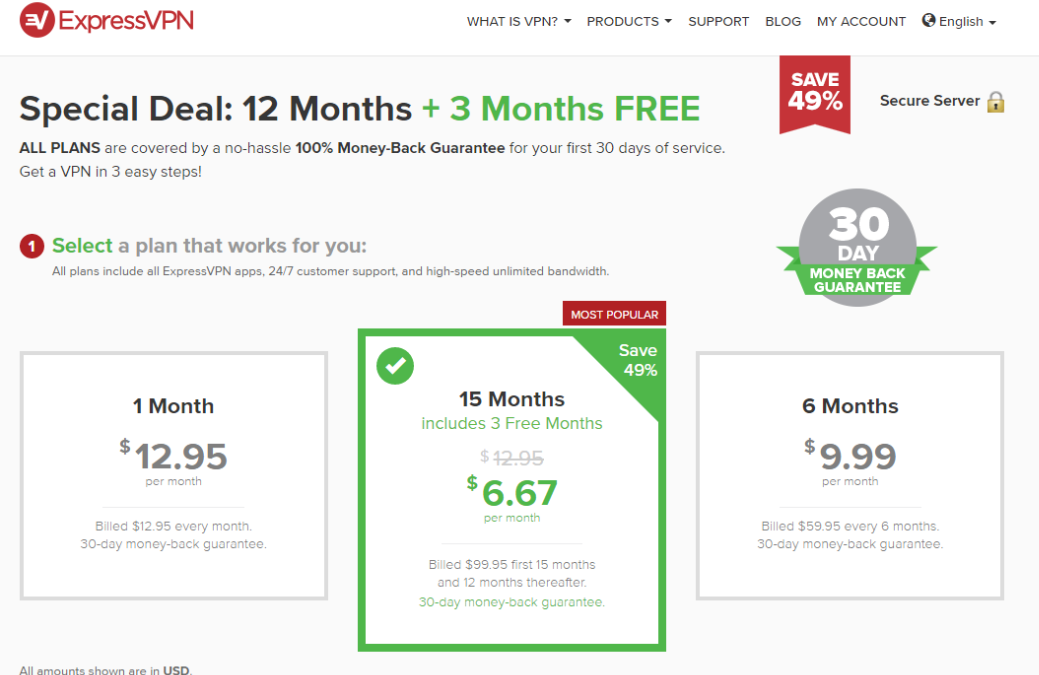 2.Download and install the ExpressVPN VPN app for Windows, Mac, Android or iOS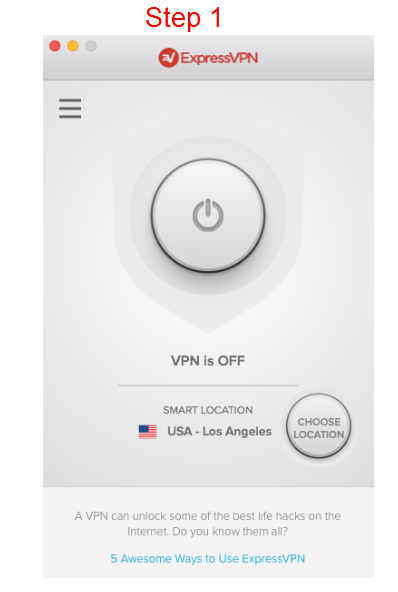 3. Connect to any one of 148 server locations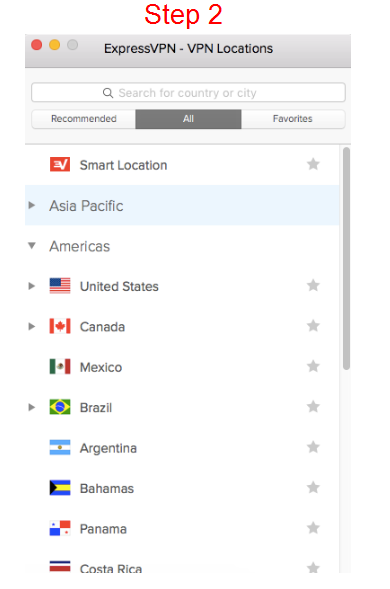 4. Use the internet the way you want to use it!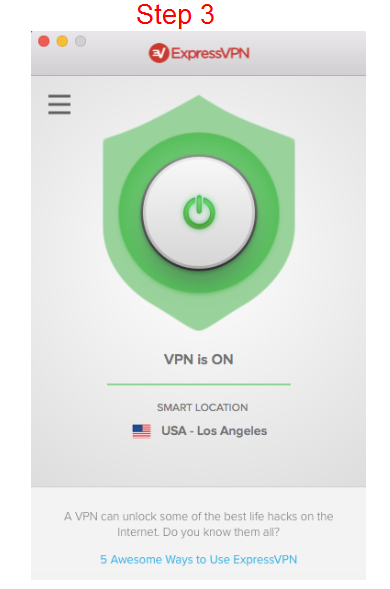 Video of ExpressVPN Review 2018
Top 5 Best VPN Services 2018
| VPN Provider | Server | Country | # of Connections | Price(USD) | Website |
| --- | --- | --- | --- | --- | --- |
| | 1500+ VPN servers in 94 countries. | British Virgin Islands | 3 Connections | $6.67/Month (Save 49%) | Get Deal |
| | 1,000+ VPN servers in 60+ countries. | USA | 5 Connections | $6.49/Month (Save 46%) | Get Deal |
| | 2643 servers in 56 different countries. | Panama | 6 Connections | $3.29/Month (Save 72%) | Get Deal |
| | 3000+ Servers in 55+ Countries. | USA | 5 Connections | $5.95/Month (Save 50%) | Get Deal |
| | Over 200 servers in 69 countries. | Bulgaria | 6 Connections | $4.92/Month (Save 50%) | Get Deal |
Summary
If you are looking for a VPN provider to stream live contents, live sports and movies from Netflix, BBC iPlayer, Youtube, Youtube TV, Sling TV, Pluto TV, Sky Go, HBO Go and more, ExpressVPN is the best choice we bet. It not only fast stream live programs, gaming and movies, but also has a full-featured and strong performance to protect your online activities and encrypt all your online data and information. No one like ISPs, government, snooper and hacker can access, read and collect your metadata, DNS queries and other online information. You also get P2P support, a kill switch (to help your IP stay concealed if your network drops), and very solid overall performance levels. It supports 3 simultaneous connections for one subscription and their service comes with a premium price tag. But if you want a reliable, super fast and highly secure VPN provider, ExpressVPN is a great fit. Even though ExpressVPN doesn't have a free trial to let you test the full service, it has a no-hassle 30-day money-back guarantee. If you are not happy with the service, you can ask a full refund from ExpressVPN without any question. This no hassle money-back guarantee is actually a fair policy for beginner. ExpressVPN is really a high-quality service with a fair price.

Have not yet get an ExpressVPN Account? Click below to get one on saving 50%!
Get this Deal Now